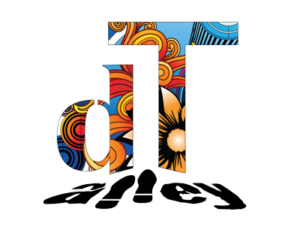 DT ALLEY COMMUNITY COALITION DEBUTS dT-ALLEY LAS VEGAS' FIRST EVER ALLEY REVITALIZATION PROJECT
Permanent Interactive Community Space in a "T"-shaped Alleyway Premieres in the Heart of DTLV
Formal Ribbon Cutting & Destination Grand Opening with Mayor Goodman February 20, 2020
Click to tweet:  (INSERT TWEETABLE MOMENT HERE)
LAS VEGAS (JAN X, 2020)— The dT Alley Community Coalition, Inc, (DCC) , a Nevada non-profit corporation, debuts dT-Alley, a community passion project and immersive, interactive T-shaped alleyway that brings together nature, art, education, music and community in the heart of Downtown Las Vegas (DTLV).
In partnership with The City of Las Vegas, the highly anticipated new outdoor corridor will serve as a gathering ground for locals and tourists alike. Located between Fremont Street & Carson and Las Vegas Boulevard & 6th Street, dT-alley will create new experiences incorporating art and interactivity through the use of murals, innovative landscaping, and multiple interactive "moments" – all of which provide a secure and beautiful space in an otherwise under-utilized area.
The complete alleyway renovation will feature unique, contemporary and urban designs with accents that celebrate DTLV's recent tradition as serving as the creative epicenter of the City. Highlights of the project include: over 10,000 square feet of a total design refresh with vibrant murals from local artists; improved drainage, and 15 LED streetlights. Upon completion of Phase 1, local artists like King Ruck of Black Spade Tattoo, Miguel from Zappos and others will debut ten murals that personify DTLV. The alley will also serve as a space for forthcoming thoughtful programming like art walks, farmers markets and kid-friendly events that use the permanent piano installation, puppet theatre and a 'take a book/leave a book' library on-site. dT-alley can also adapt to host private/corporate events, weddings and other exciting activations.
dT-Alley is partnering with Caridad Gardens, a Nevada non-profit focused on veterans, who will grow and provide plants for 10 planters in the alley, changing the plants with each season and upon request for hosted events. The planters will be tended to by formerly homeless veterans. Each planter will have a QR code allowing the public to scan and watch a short autobiographical video on each farmer.
dT-Alley makes its grand debut on February 20th at 2 p.m. in an unveiling officiated by Mayor Carolyn Goodman, alongside councilmembers Michelle Fiore and Olivia Diaz, with Vegas performers like Absinthe's Master of Ceremonies The Gazillionaire and surprise musical acts throughout the day. Guests are invited to walk the alley and enjoy live music, artful alley activations and light bites by the Project BBQ at Circa food truck.
"As a whole, Las Vegas has 30 acres of park space per 10,000 residents, while downtown Las Vegas has just 2 acres per 10,000 residents. With a shortage of park space in Downtown Las Vegas, dT-Alley provides a new outdoor space and a sense of community with an artistic flair," said Todd Kessler, President of the DCC. "This incredibly transformative project is 8 years in the making and we are so proud to unveil it to the community with such instrumental partners behind us."
dT-Alley will be open from 24/7, beginning on February 20th. For more information visit http://dtalley.vegas or follow along on Instagram.
###
Media Contacts:
Megan Fazio, Neon Public Relations
702-673-0667
megan@neonpublicrelations.com